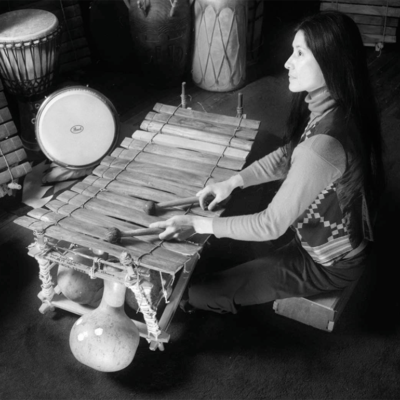 Valarie Naranjo
Musician, Educator, Performer
NYU, SNL Band at NBC
West African keyboard percussion pioneer, Valerie Naranjo has been the percussionist in NBC's Saturday Night Live Band for 26 years, and has performed with such artists as David Byrne, Lady Gaga; Paul Simon; Zakir Hussein, The Philip Glass Ensemble, and The Paul Winter Consort. In 1988, Ghanaian Chief Karbo lifted the ban on women gyil players so that Valerie could participate in their "KO bee nay" Festival, for which she won a first prize in 1996. RG productions' film "Knock on Wood" documents this activity, and has appeared in film festivals worldwide. Valerie was the 4th woman to be inducted into the Percussive Arts Society Hall of Fame, and was Drum! Magazine's "World Music Percussionist of the Year" 2005 & 2008, and "Mallet Player of the Year" 2012.
Performances on 6 continents include Lincoln Center, New York City Center; The Kennedy Center; The White House; London's Royal Festival Hall; Carnegie Hall; Scotland's Edinburgh Festival; The Kaisuka Festival (Japan); The Grahamstown and Arts Alive Festivals (South Africa); FESTIBO (The Ivory Coast); Young Indians (Delhi); and the Winter Olympics in Vancouver.
Valerie teaches African percussion at NYU, and is a member of NYU's Global Institute for Advanced Studies. She published, with the late Ghanaian gyil maestro Kakraba Lobi, the CDs and written music series "West African Music for the Marimba Soloist", "Joro" for gyil (JEEL) and orchestra, and "Tierra Pura", for Gyil and wind ensemble.