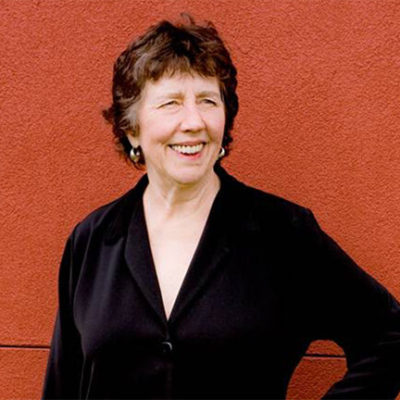 Joan Tower
Grammy Award Winning Composer
Bard College
Musical America's 2020 Composer of the Year — is regarded as one of today's most important living American composers. During a career spanning more than 50 years, she has made lasting contributions to musical life in the United States as composer, performer, conductor, and educator. Her works have been commissioned by major ensembles, soloists, and orchestras, including the Emerson, Tokyo, Muir, Enso, Daedalus, and Jasper quartets; soloists Evelyn Glennie, Carol Wincenc, David Shifrin, Paul Neubauer, John Browning, Peter Kolkay, and Bella Hristova; and the orchestras of Chicago, New York, St. Louis, Pittsburgh, Baltimore, Nashville, Albany, and Washington, DC, among others. Ms. Tower was the first composer chosen for a Ford Made in America consortium commission of 65 orchestras. Leonard Slatkin and the Nashville Symphony recorded Made in America in 2008 (along with Tambor and Concerto for Orchestra); the album received three Grammy Awards, for Best Contemporary Classical Composition, Best Classical Album, and Best Orchestral Performance. Nashville's latest all-Tower recording includes Stroke, which received a 2016 Grammy nomination for Best Contemporary Classical Composition.
Ms. Tower's recent works include Wild Summer (2017), premiered by the Jasper String Quartet; Power Dance (2016), premiered at the American Guild of Organists Convention; and Sixth Fanfare for the Uncommon Woman (2016), premiered by the Baltimore Symphony.
In 1990 Joan Tower became the first woman to win the prestigious Grawemeyer Award, for Silver Ladders, which she wrote for the St. Louis Symphony where she was composer-in-residence from 1985 to 1988. Other orchestra residencies include the Orchestra of St. Luke's (1997–2007) and the Pittsburgh Symphony Orchestra (2010–11), and she was the Albany Symphony's mentor composer partner in the 2013–14 season. Ms. Tower was co-founder and pianist for the Naumburg Award–winning Da Capo Chamber Players, 1970–85. She has received honorary doctorates from Smith College, New England Conservatory, and Illinois State University.